Saturn VUE Hybrid SUV
The Saturn VUE Hybrid SUVstarted rolling out in mid-2006. According to GM, the Vue Hybrid SUV is a mild hybrid with increased fuel efficiency of 20-percent over the standard model. When the full hybrid of the Saturn VUE Hybrid SUV comes to market, it is expected to achieve around 40 mpg.
The Saturn VUE Hybrid features General Motors' new Belt Alternator Starter Hybrid System. According to GM, "The Belt Alternator Starter (BAS) Hybrid System combines engine controls with a precision electric motor/generator, providing an estimated fuel economy savings of 10 percent." The mild hybrid system is basically a gasoline-powered vehicle assisted with an electric motor as needed where a full hybrid system is the opposite.
Full hybrid systems typically give better fuel economy than mild systems, though Honda may argue otherwise. The Saturn VUE Hybrid will feature an engine idle shutoff system with quick restart, regenerative braking, early fuel cutoff and electric motor transmission shift smoothing. The Saturn VUE Hybrid combines the BAS system with a 2.4 liter, four-cylinder ECOTEC engine and a 42-volt nickel-metal hydride (NiMH) battery connected to the 12-volt electrical system. The Saturn VUE Hybrid SUV also offesr both a 5-speed manual and 4-speed automatic transmission.
Saturn VUE BAS System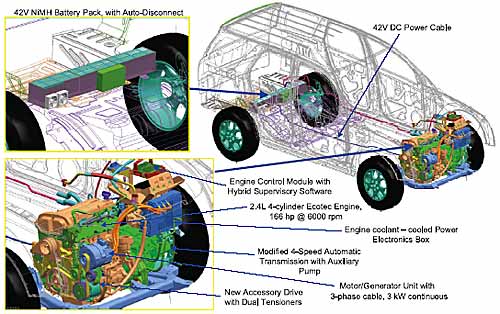 While critics say that a 20-percent fuel savings is not significant enough, GM will be able to offer the vehicle for around the $20,000 mark making it the most affordable hybrid SUV on the market. The strategy with the mild hybrid line is to offer some fuel savings with very little cost over the gasoline-only model.
The VUE mild hybrid is most likely an interim hybrid vehicle that GM was able to get to market quickly while developing the more robust full hybrids. At least this is a step in the right direction of getting the public acclimated to owning hybrids and weaning themselves from all gasoline vehicles.