Mazda Senku
The Mazda Senku is marketed as "a four-seater rotary sports car for adults" and is one of Mazda's newest hybrid car offerings. The Mazda Senku made its world premier at the Tokyo Motor Show at the Makuhari Messe, Chiba prefecture in October 2005. Mazda unleashed a variety of cars and technological advances at the 2005 Tokyo Motor Show, but it would be fair to say that most eyes were locked on the Senku.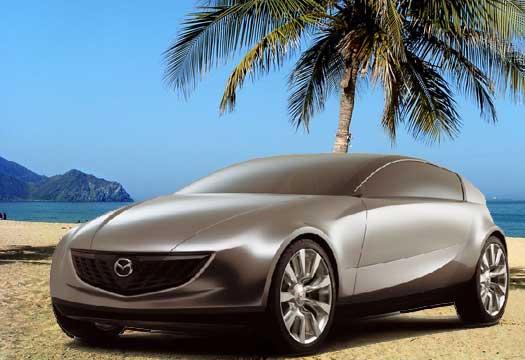 Mazda Senku Rotary Hybrid Concept Car
The Mazda Senku is clearly marketed to adults as a concept car that will not only be reliable but also exciting. The Senku has the first-ever rotary hybrid engine powertrain based on a next-generation 13B-DI direct injection gasoline rotary engine with a hybrid unit. Mazda has designed the hybrid powertrain itself, using a new direct-injection two-rotor engine that is combined with a battery, motor, and generator.
The battery is located between the engine and the firewall, which helps create an equal distribution of weight and maintain a lower center of gravity. As with some other hybrid systems, the Senku includes an "idling-stop system" that helps boost the fuel economy of the vehicle and lower overall emissions.
The Mazda Senku has a tremendously sleek design, complete with long sliding electric doors. The car is 15.3 feet long, 73 inches wide, and 55 inches tall which makes it bigger than the Mazda RX-8. It also has a 122-inch wheelbase. The Senku is built on a new style of multi-frame technology that saves weight and makes the car safer in impact situations. The multi-frame technology essentially supports the engine and front suspension and pillars are placed inside the backs of the car doors to maintain rigidity despite the sliding door openings.
The Senku comes with seven-speed manual transmission and a twin-plate clutch, double wishbone suspension, and huge Yokohama Prototype 005 tires. It also includes a power-operated hatch that lifts the glass roof to reveal solar panels that assist in charging of the battery. The sliding doors are also electric.
Many that have viewed the Mazda Senku are quick to comment on the sleek design and the fact that the car appears to be "floating" because of the wheelbase, huge tires, and literally no overhang. The shape of the vehicle is smooth and sleek, with no clattering ornamentation to distract the consumer. Others comment on the large amount of personal space and the comfort of the leather seats. One could make the argument that the Senku was one of the roomiest and "zoom-zoomiest" cars at the show. Truly a luxury hybrid hydrogen machine for a new generation of "mature" drivers, the Mazda Senku is a true head-turner.