Mazda RX-8 Renesis
Mazda debuted its RX-8 RE hybrid with Renesis Hydrogen Rotary Engine at the 2003 Tokyo Motor Show. The Renesis is an electronically-controlled direct-injection rotary engine with a high-pressure hydrogen fuel tank. The RX-8 Renesis also runs on gasoline as well, making the Mazda car the first and only rotary hybrid as well as the first and only rotary hydrogen-gasoline hybrid in the world.
According to Mazda, "The RENESIS Hydrogen Rotary Engine incorporates an electronically-controlled hydrogen injector system (the hydrogen is injected in a gaseous state). The system draws air from the side port during the induction cycle and uses dual hydrogen injectors in each of the engine's twin rotor housings to directly inject hydrogen into the intake chambers. By virtue of its construction, with separate chambers for induction and combustion, the rotary engine is ideally suited to burn hydrogen without inviting the backfiring that can occur when hydrogen is burned in a traditional piston engine. The separate induction chamber also provides a safer temperature for fitting the dual hydrogen injectors with their rubber seals, which are susceptible to the high temperatures encountered in a conventional reciprocating engine."
The Mazda RX-8 RE hybrid car also employs a couple of other environmentally friendly features of which one would not normally think. For instance, the RX-8 uses a water-based paint, applied wet three times, which reduces the emission of organic solvents, speeds drying time and reduces CO2 gases. The RX-8 also uses plant-based plastic parts on the interior that are not derived from petroleum unlike other plastics.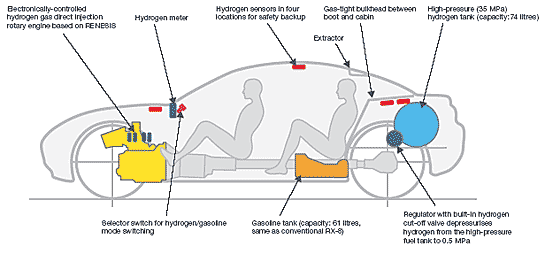 Other environmentally-friendly and efficiency-friendly systems that Mazda is working on for future generations include regenerative braking, idle-stop systems and electric acceleration assistance systems. An electric motor assist turbocharger is being developed to enhance the efficiency of hydrogen combustion and regeneration of energy from the car's exhaust. Mazda also plans to merge the hydrogen-gasoline hybrid system with an electric motor counterpart, or tribrid technology, in order to create even greater efficiency and cleaner running systems than ever before. This tribrid technology will feature an electric motor, inverter and 144v battery and H2ICE engine. Tribrid technology will likely replace hybrid technology for other vehicles as well in the transition to all-hydrogen technology when the hydrogen economy starts to take hold.
And if you can say tribrid, you can surely say Zoom-Zoom.